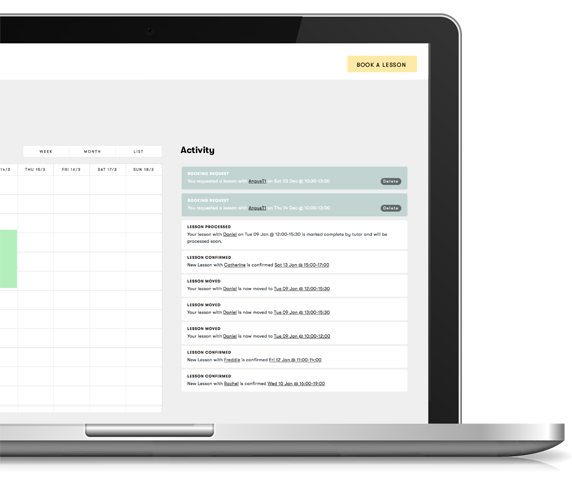 Bloomsbury Plus
The UK's no.1
tutoring platform
Bloomsbury Plus makes tutoring a breeze. Timetable classes, share materials with tutors, manage your payments setup notifications and much more.
Tap'n'Book, Plan,
Share, Progress
Book your classes instantly, via phone, on your computer, or on your mobile. Create and edit lessons with tutors, share materials and instructions, and get lesson feedback.
Alerts, Accounting
& Timetabling
Setup SMS and email notifications, track your spending just like a bank account, and use our timetabling tool to book a schedule of lessons.
How it Works
1. Speak with a coordinator
Our coordinators organise over 10,000 hours of law tutorials each year. Their indepedent advice will help you choose the best combination of tutors to try out.
2. Induction class
(optional)
We recommend starting with a free class with our head of tutoring on how to acheive success at law school. It will change the way you think!
3. Trial Lessons
(unlimited)
Try any combination of tutors for £20 each, timetabled to suit you, covering your courses in outline. We recommend one trial per module.
4. Pay As You Go
We are 100% Pay As You Go, with discounts of £50 each time you book 10 hours. Take classes whenever you want.
Online Law Tuition
All our tutors teach online, via skype, factime, hangouts, or whatever works for you.
Results
Achieving results is not just about learning the law. It's about learning to execute exams.
Exam Strategy
Understanding effective exam strategy plays a fundamental role in guiding a student's efforts during their revision period. Most law exams set essay questions and problem questions. Essays are always based on some common academic controversy.

Are you focusing your preparation work on these controversies? What are your positions on each examinable controversy? What issues do you anticipate might crop up in problem questions? These primary questions should frame a student's revision period and are usually tackled during trial lesson.
Problem Questions
Problem questions test your lawyerly ability to diagnose the legal consequences of facts.

Problem questions are sequential and will always follow a familiar pattern. Your facts generate legal claims between the parties. Each claim splits up into a sequence of constituent legal questions as prescribed by the relevant area of law. In this way, problem questions are highly compartmentalised. Use this to your advantage when revising.

Becoming proficient at problem questions requires mechanical, compartmentalised learning and practice. You need to familiarise yourself with the sorts of fact patterns that your examiner will set and the sorts of sequential reasoning you will apply to answer your questions.

These ideas and more are explored in our standard introductory lesson which is free for new students.
Essay Questions
Essays do the opposite thing to problem questions. While the latter test your knowledge of specific laws as they relate to specific facts, the former test your ability to analyse the law within its broader context. Is the law achieving its aims?

Essay questions subdivide into 3 categories: (1) What is the law?; (2) What should the law be, and (3) What has the law been? Most essay questions are a combination of 1 and 2. Your task, in any essay, is to present a persuasive argument in response to one of these questions.

Underperforming students fail to consider the mechanics of argumentation. When is something persuasive? What makes an argument sophisticated?

Invariably, essay questions target uncertain or contentious areas of the law. So, a student might what to start by asking themselves the following sorts of questions:

• What are the contentious areas of law on my course topics? • What are my positions on these areas? • What makes my positions persuasive and sophisticated?

These ideas and more are explored in our standard introductory lesson which is free for new students.
FAQs
The most common way to start is to call the office. Speak to a tuition coordinator, explain your situation, they'll offer you various options on how to get started and you can proceed from there. Normally you would start with a consultation, a pathway class, or a series of trial lessons (see above). If you're in a hurry, you can proceed straight into full lessons. Alternatively, you can sign up yourself on our website and proceed to booking lessons on your own.

You'll find the prices of lessons on the profile of each tutor. Generally, senior tutors (qualified lawyers and university staff) charge £65-80 per hour, whilst junior tutors (everyone else) are £50-60 per hour. The exact rate depends on whether or not the lesson is online, and whether the 10-hour block £50 discount applies. Everyone charges trial lessons for £20.

That's up to you and how much money you want to spend. Students will usually cover a topic per lesson. So, if you've got 6 topics to cover, that will translate into 6 lessons. Each lesson could be an hour, two hours, or more - it's totally up to you. This is the kind of thing that we'd expect you to cover during your trial lesson with each tutor.

The centre is open for lessons 9.30am to 9pm Monday to Friday and 11am to 6pm at the weekends. Beyond those hours, the only limitation on the availability of lessons will be your tutors' working hours.

It's up to you. Generally speaking there are two broad categories of tutors - seniors and juniors. Seniors are more experienced, and more expensive. If you're not sure what category of tutor you'd prefer, we often recommend that you try out different tutors at the start, and then stick with your favourites. We also encourage you to choose tutors who already know your specific course materials. Speak to an advisor and they'll be happy to explain which tutors have already taught others in your particular cohort.
FAQS
Aiming any grade starts with making a plan to get you from your current grade level to your target. Do you understand how a first class script reads and what is contains? Moving from 65 to 70 is about raising the sophistication of your answers. It's about

That's fine. The common request we hear is for tutors with first class degrees, or for tutors from certain universities. Sometimes we push back on these requests if we think there are better options available. Generally, however, as a rule we're here to serve our students and any requests that they may have. Our tutors span all the top ranked universities in the country and can cater for any ability level. At the higher end, it is often most helpful to instruct tutors from the same university that the student is studying at.

Many students come here for help with resits. Normally the starting point is to understand why there might be a particular problem with a module. Often there's a fundamental issue with core subject knowledge, or the student doesn't appreciate the true nature of the exam. Trial lessons are purpose-designed for tutors to quiz students on their background and objectives. If you're looking to pass a resit, explain that to the tutor at the trial and they will suggest an appropriate plan that tackles your weakness and builds in an extended period of mocks and Q&A to make sure you pass next time round.

Absolutely. We speak with mums and dads all the time. Worrying about your kids can be more stressful than worrying about yourself... we get that and will offer straightforward advice on how we might be able to help your son or daughter get ahead. Invariably, once they start, we will want a degree of independent communication with them directly, but we can arrange for regular feedback to be provided so everyone knows where the student stands, if that is what everyone wants. Call the office to find out more.
Get Started
Free masterclass / unlimited trial lessons
No committments, no term fees, ever. Trust the market leader.

Get Started

}); }else{ $("#slidescoller").hide(); }